Agriculture Business
Combine your passions for agriculture and business to learn how the world's food supply gets from the field to the table. Study the operating practices and business principles required to succeed in the food, fiber and related agriculture business industries. 
Areas of study for an agribusiness degree include:
Farm and ranch management
Agricultural finance, accounting and marketing
Livestock production
Feeds and feeding
Crop production
Soil science
The Aims agricultural business degree offers two degree tracks designed to help you meet your career goals: 
You can pursue an agribusiness associate of applied science degree and enter the workforce directly after completing the two-year program. 
If you plan to go on to earn a bachelor's degree at a participating public four-year Colorado school, you can choose the agriculture business liberal arts associate of science degree with designation. 
The program ensures you have access to small classes with plenty of opportunities for one-on-one instruction, and offers a foundation of technical, business and hands-on skills that will help you build a successful career. 
"For our students, success comes in a variety of forms…they want to have a job or move on to continue their education…They want to be a marketable employee and find where they fit in our agricultural industry as a whole and Aims catapults them and helps them to do that."
--Amy McFarland, Agricultural Sciences and Technology Chair
Aims Degree Video - Agricultural Sciences and Technology - Business
Amy McFarland, Chair of the Agricultural Sciences and Technology Department, explains how the Agriculture Business program at Aims seeks to give students an education that prepares them for success.
Agribusiness - Student Testimonial - Omar Roman
Watch Aims graduate Omar Roman talk about his time at Aims Community College and his journey through the Agricultural Sciences program.
The agribusiness degree program at Aims teaches the key operating techniques and business skills used in the modern food and fiber industries. The coursework builds your knowledge and hands-on experience develops the skills you need to manage a business in agriculture or associated industries. 
In the Aims agricultural business degree program, you'll gain skills in:
Applying the principles of finance, economics, business and marketing to a farm or ranch operation
Systems and methods of marketing crops and livestock
Accounting principles that apply to business
Livestock breeding, health, housing and feed
Production and adaptation of cultivated crops
Additional core credits teach professional skills that help you communicate clearly, present yourself to employers, interact with peers, and apply critical thinking and problem-solving skills.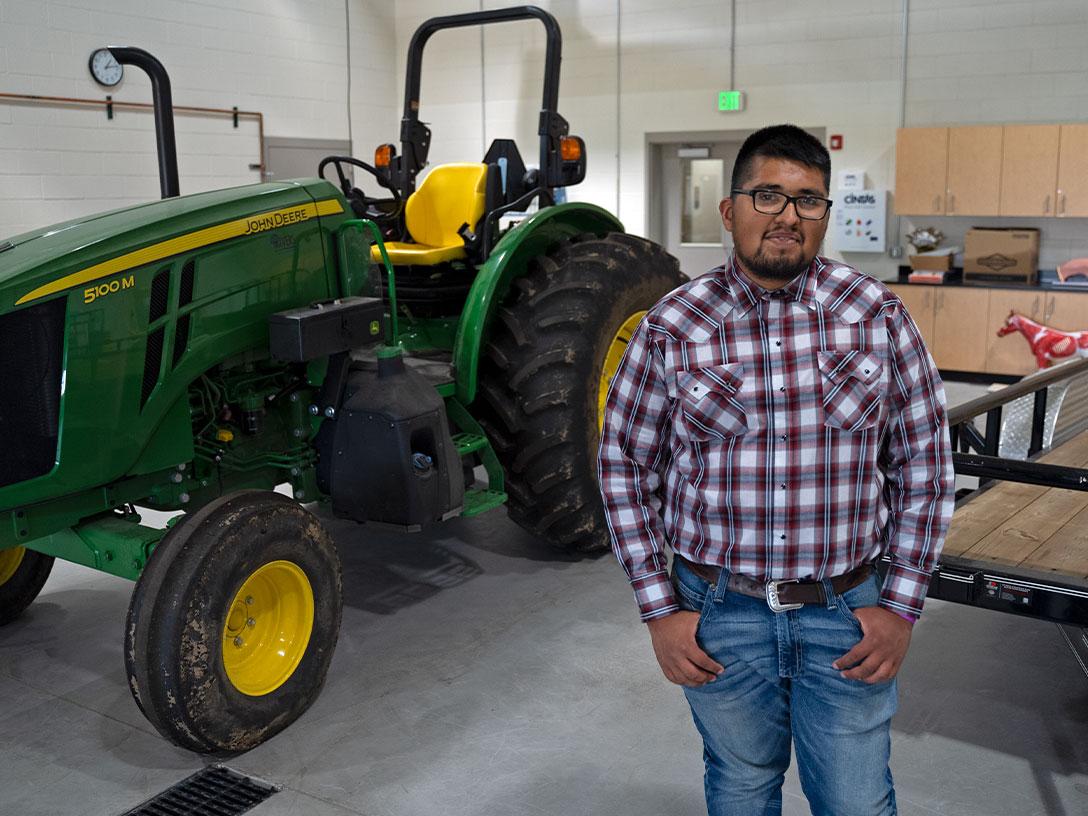 Introduction to Agriculture Business Management
Agricultural Business Management Certificate
Launch Your Career in Agribusiness
As the world population continues to grow, so does the need to fill positions in businesses that supply the food chain and the companies that support them. An agribusiness degree from Aims prepares you for a wide variety of career possibilities in many areas of the ever-growing agriculture industry. 
An agricultural business degree from Aims teaches the technical and interpersonal skills that you need to either transfer and earn a bachelor's degree at a participating public four-year Colorado school or enter the workforce prepared to succeed.  
Examples of careers agribusiness program graduates might pursue include:
 
Finance and banking
Appraiser
Real estate
Sales
Marketing
Insurance
Customer relations
Public relations
Farm and ranch management
Livestock management
Land management
Policy lobbyist
Wholesale distributors
Farm machinery manufacturing
Government
Agriculture educator
Agriculture Business Faculty and Staff
The agriculture instructors at Aims have worked in many areas of agriculture and are nationally sought-after because of their expertise and ability. They can provide real-world insight and connections to help put your degree to work. Small class sizes mean you'll receive plenty of individual instruction and chances to build relationships that can last a lifetime with instructors who are leaders in the industry.
Next Steps
Are you ready to get started?
Do you have questions?

Meet with an Enrollment Coach!
Degree at a Glance
Degree Type
Associate of Applied Science
Location
Fort Lupton Campus
Credits
60