Anthropology
Are you fascinated by human cultures and how they operate and interact? Does delving into the human past and present thrill you? Anthropology looks at the big picture of all humans in all times in all places.
Anthropologists study the meaning behind human behaviors, traditions and rituals in a holistic manner. By applying the scientific method and systems thinking to human cultures, anthropologists can examine issues  including structural violence and inequities. A well-known sub-discipline, archaeology, looks to the past to examine how people lived. Anthropologists also investigate biological aspects of humans, our extinct ancestors and other primates.
Earning an associate degree in anthropology at Aims puts you on an affordable path to getting your bachelor's degree. Thanks to a statewide agreement between community colleges and universities, upon completion of your associate degree at Aims you can transfer to any participating four-year public university in Colorado as a junior and earn your bachelor's degree in anthropology. Taking your general education degree requirements at Aims instead of a four-year institution can save substantial costs. 
At Aims, your instructors, Pathway Advisors and coaches at the Aims Transitions Center will work together to help your transfer go smoothly.
Are you excited to study people across time and space? Explore your options for earning an anthropology degree.
There are four main fields of anthropology:
Cultural anthropology - the study of present cultures
Biological anthropology - the study of humans, their ancestors and primates
Archaeology - the study of ancient or past human artifacts
Linguistic anthropology - the study of past and current language and communication
Depending upon your field of interest, your instructors and Pathway Advisor can help you choose general education courses that are required for associate and bachelor's degrees that will also help you develop the skills you will use in your career. Many anthropology students choose courses related to their major, such as forensic anthropology or Colorado History. 
Your anthropology instructors will teach you essential facts and knowledge about anthropology, including:
Critical thinking
Global and diversity awareness
Research and paperwork skills
The scientific method and evidence-based learning
Field work methodology 
Data analysis
Holistic thinking
Ethics, including gaining informed consent from study subjects
While Aims doesn't offer courses that include field work, this sort of hands-on experience is a big part of anthropology. Your instructors will highlight volunteer opportunities to do field work outside of your coursework. 
While earning an anthropology associate degree, you'll also learn soft skills that are vital to success in volunteer opportunities, bachelor's and advanced degree programs, and employment, including:
Interpersonal skills
Communication
Job preparation
Time management
Social sciences like anthropology can intersect with many other subject areas and disciplines. Some careers you can pursue after earning a bachelor's or higher degree in anthropology include:
Researcher
Forensic scientist
Geneticist     
Primatologist
Archaeologist
Museum curator
Teaching or education outreach
Advocate/Humanitarian
Consultant (for governments, corporations, nonprofits and more)
Conservationist
Thanks to a Statewide Transfer Articulation Agreement in Colorado, after graduating from Aims with an Associate of Arts degree, you can go on to study at any participating public university statewide.
Below is a list of colleges and universities in Colorado that are a part of this statewide agreement and offer bachelor's degrees in anthropology. ]
Here's what your journey from Aims to a bachelor's degree in anthropology will look like:
An Aims Admissions Advisor can answer your questions about this degree transfer program and help you get started on the path to earning your degree.
After becoming an Aims student, you'll choose classes to earn your anthropology associate degree. Your Aims Pathway Advisor will help you ensure you follow the pathway that best suits you and helps you reach your goals.
During your time at Aims, you'll also work with an Aims Transfer Coach to get help choosing the school you'd like to transfer to and researching what scholarships are available.
You can also reach out to a transfer advisor at your chosen four-year school to make sure you're choosing classes that will support you when you go on to complete your bachelor's degree.
Before graduating from Aims, your Transfer Coach will help you prepare for the transition to your new school as a junior.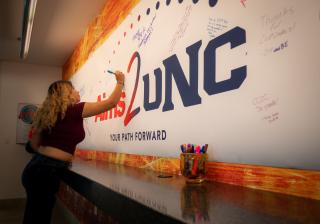 The Aims2UNC Transition Program
Aims2UNC is a joint initiative streamlining the path for students to seamlessly transition between the two colleges. You'll get support from advisors specific to this program who will assist you as you earn your associate and bachelor's degree in anthropology.
Learn more
While many Aims anthropology students go on to earn a bachelor's or higher degree in this social science, some go on to major in other disciplines, including:
Secondary education, often with a specialty in social sciences
Sociology
History
Ethnic Studies
Archaeology
African American Studies
Social Work
You can also choose one of the majors above and declare a minor in anthropology. 
Aims anthropology faculty teach with your needs and interests in mind, guiding you in honing critical thinking skills and deepening your awareness of global diversity. With smaller class sizes compared to four-year schools, you'll have more opportunities for personalized instruction and interaction with other students.
Next Steps
Are you ready to get started?
Do you have questions?

Meet with an Enrollment Coach!
Degree at a Glance
Degree Type
Associate of Arts
Credits
60