Chemistry
Are you fascinated by the many chemical processes happening all around us? Would you like to pursue an education to gain a deeper understanding of chemical equations, principles and laboratory experiments? If you'd like to go on to earn a bachelor's degree in chemistry, you can begin your degree path at Aims by earning an associate degree in chemistry.
Chemistry is the science of everyday life, affecting everything including the food we cook, the geology of the Rocky Mountains, and various bodily processes like breathing and eating. Chemistry also interacts with and complements other sciences such as geology and biology. 
Earning a chemistry degree at Aims allows you to go on to earn a bachelor's degree while paying less in tuition. Thanks to a statewide agreement between community colleges and universities, after earning your associate degree in chemistry at Aims you can transfer to any participating four-year public university in Colorado as a junior and earn your bachelor's degree. Taking your general education degree requirements at Aims instead of a four-year institution can save you considerable cost. 
At Aims, your instructors, Pathway Advisors and coaches at the Aims Transitions Center will work together to guide you through the transfer process.
Are you excited to study the many ways chemistry impacts our lives and environment? Explore your options for earning a chemistry associate degree at Aims.
At Aims, your foundational chemistry curriculum will give you a solid overview of the major topics of study in this field. Each chemistry course has a lab component, giving you opportunities for hands-on study of chemical reactions.
Explore subjects in chemistry that will give you a solid foundation to transfer to a four-year school, including:
Chemical formulas
Matter
Reactions
Equations
Atomic theory
Solutions
Equilibrium
Stoichiometry
In addition to your core chemistry classes, you'll also study a year each of Calculus and Calculus-Based Physics. General education and elective classes round out your two-year chemistry degree experience.
Note that the Aims chemistry degree program assumes you are calculus-ready. If you have not yet taken college algebra or trigonometry, you will have an additional year of math requirements to fulfill before taking calculus along with your core chemistry courses.
Additionally, Aims does not offer organic chemistry courses at this time. See the Aims associate degree in chemistry requirements for more information and work with your Enrollment Coach and Transfer Coach to develop your chemistry transfer degree pathway.
In the Aims chemistry associate degree program, you'll learn basic principles of chemistry, chemical equations and how to safely conduct experiments in the laboratory. In rigorous classes that include lab sections, you'll apply knowledge gained in the classroom.
While earning an associate degree in chemistry at Aims, you'll gain skills in:
The scientific method
Laboratory safety
Solving complex chemical equations
Applying theoretical chemistry principles
You'll also develop soft skills that are important to employers in any field, including analytical and critical thinking, problem-solving, collaboration and teamwork.
Chemistry offers a variety of career options in academic, government and private industry settings. 
Examples of careers you can pursue with a bachelor's degree in chemistry include:
Educator
Laboratory supervisor
Chemical instrumentation technician
Forensic chemist
You can also go on to pursue a master's or doctorate degree in chemistry or a related scientific field, such as medicine. 
Thanks to a Statewide Transfer Articulation Agreement in Colorado, after graduating from Aims with an Associate of Arts degree, you can go on to study at any participating public university statewide.
Below is a list of colleges and universities in Colorado that are a part of this statewide agreement and offer bachelor's degrees in chemistry.
Here's what your journey from Aims to a bachelor's degree in chemistry will look like:
An Aims Enrollment Coach can answer your questions about this degree transfer program and help you get started on the path to earning your degree.
After becoming an Aims student, you'll choose classes to earn your chemistry associate degree. Your Aims Pathway Advisor will help ensure you follow the pathway that best suits you and helps you reach your goals.
Throughout your time at Aims, you'll also work with an Aims Transfer Coach to get help choosing the school you'd like to transfer to and researching what scholarships are available.
You can also reach out to a transfer advisor at your chosen four-year school to make sure you're choosing classes that will support you when you go on to complete your bachelor's degree.
Before graduating from Aims, your Transfer Coach will help you prepare for the transition to your new school as a junior.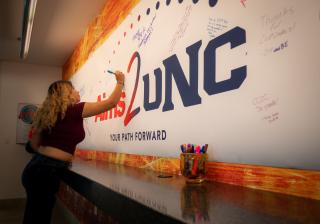 The Aims2UNC Transition Program
Aims2UNC is a joint initiative streamlining the path for students to seamlessly transition between the two colleges. You'll get support from dedicated Aims2UNC advisors who will guide you as you earn your associate and bachelor's degrees in chemistry.
Learn more
While many Aims chemistry students go on to earn a bachelor's or higher degree in this subject, some go on to major in other disciplines, including:
Biochemistry
Petrochemical engineering
Environmental science
Chemical engineering
You can also choose one of the majors above and declare a minor in chemistry. Work with your Pathway Advisor to choose the courses that you'll need to fulfill requirements and understand that you may need to make up some credits if you choose a new major.
Chemistry Faculty and Staff
Aims chemistry faculty have high expectations for your learning but are equally invested in your success. With smaller class sizes and more opportunities for one-on-one attention from instructors, you can get support you need throughout your time at Aims.
Next Steps
Are you ready to get started?
Do you have questions?

Meet with an Enrollment Coach!
Degree at a Glance
Degree Type
Associate of Science
Location
Greeley Campus
Fort Lupton Campus
Loveland Campus
Credits
60