Professional Pilot
Are you fascinated by the traveling lifestyle of a commercial airline pilot? If you have ever dreamed of piloting jet airliners a pilot associate degree from Aims can help you achieve that goal. In fact, you can experience a solo flight in your first semester of classes. 
Develop the technical and personal skills you need to pilot commercial airliners as well as corporate and fractional flights with this professional pilot associate degree. 
In this degree program, you will earn certificates for private and commercial flight as well as instrument and multi-engine rating – all in two years.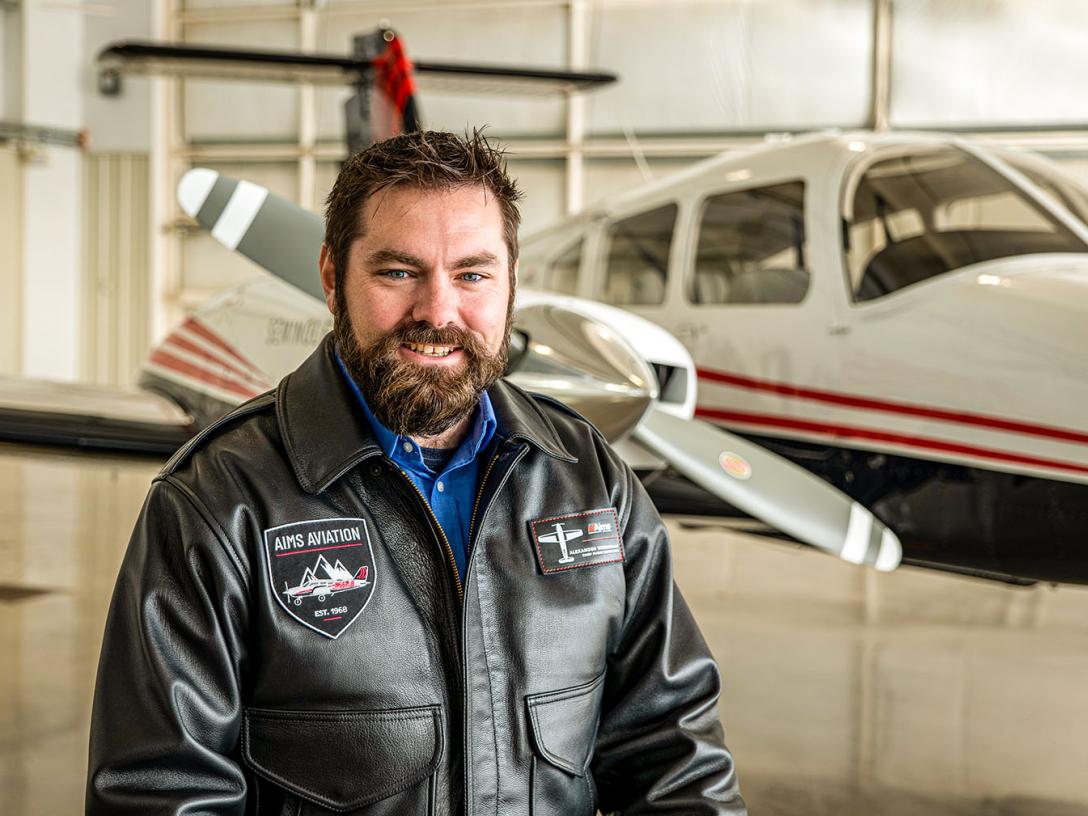 The Aims pilot associate degree program gives you access to the following:
A fleet of state-of-the-art aircraft to learn on, all built in or after 2017
Simulators that perfectly match the training aircraft, providing a seamless transition
Educational standards that meet FAA Part 141 guidelines
One-on-one instruction from experienced pilots
Earn approximately 250 hours of flight time
If you are interested in personal airplanes and small-airplane commercial flight, Aims also offers a general aviation pilot degree.
Aims Degree Video - Aviation - Professional Pilot
Alex Wernsman, chief flight instructor at Aims, describes the hands-on learning opportunities and state-of-the-art technology you'll find in the pilot associate degree program at Aims.
Most dedicated students in this program can build the skills and confidence to earn a professional pilot's license. As you learn on state-of-the-art, highly realistic simulators, you'll develop a wide range of skills that you can immediately apply to flying a real plane. These include hands-on control, muscle memory, familiarity with instruments and thinking clearly under pressure. 
As you progress through the Aims professional pilot degree you will also learn these skills required by the FAA:
Private flying by sight
Reading and reacting to flight instruments
Flying by instrument in adverse weather conditions
Operating multi-engine commercial aircraft
The FAA requires an 80% pass rate on written and practical exams for students of this program, which means that Aims is invested in your success. This associate of applied science degree also covers communication and professionalism courses that are valuable to any career.
Want to get a taste of what it's like to fly an airplane? Take a discovery flight with Aims and experience first-hand what aviation has to offer. For $45, you can spend 20 minutes in the cockpit of a state-of-the-art aircraft with an Aims instructor and see if you're ready to take your interest in aviation to the next level. Discovery flights are limited to one per person. 
To book a flight: 
Contact the Aims Cashier's Office to arrange payment for the discovery flight at (970) 339-6349.
Then call the Aims Flight Training Center at (970) 339-6355 to schedule your discovery flight.
Professional Pilot - Student Testimonial - Rudy Aist
Watch Aims graduate Rudy Aist talk about his time at Aims Community College and his journey through the Aviation program.
Boeing estimates that the aviation industry will need over 700,000 new pilots worldwide in the next two decades. Even with this shortage, aviation is a highly competitive field with exceptionally high standards.
This aviation degree program involves rigorous one-on-one testing that helps you hone your skills while also developing your job interview skills. When you graduate from Aims, you'll have industry-ready skills from current simulators and training flights. You'll also gain the credibility that comes with a program that has produced excellent pilots for over 50 years. You might even decide to become a flight instructor at Aims like other faculty members who are Aims graduates.
The path to piloting airlines typically goes as follows:
Obtain your Federal Aviation Administration (FAA) certificates and ratings. The usual sequence is:
Private Pilot Certificate
Instrument Rating
Commercial Pilot Certificate
Multi-Engine Rating
Build your flight time hours. Many pilots choose to become flight instructors to build their total flight time.
Build professional experience at a regional airline flying turbo-prop and/or regional jet aircraft. When the supply of pilots is high, airlines will use college degrees (A.A.S. or B.S., etc) as a decisive factor.
Accrue enough flight time and professional experience to apply to the major carriers.
Other potential career pathways for professional pilots include opportunities in:
Fractional flight (piloting private airplanes with multiple owners)
Large cargo flight (large shipping companies)
Flight instruction
Next Steps
This program has a multi-step application process.
Do you have questions?

Meet with an Enrollment Coach!
Degree at a Glance
Degree Type
Associate of Applied Science
Credits
77
Tuition*
Est. Lab/ Course Fees
$1,525
*Check Cashier's Office for current tuition rates