Corporate Training
The Aims Center for Workforce Development and Innovation (CWDI) helps businesses thrive by developing and delivering customized corporate training solutions. Training is offered where, when, and how a company needs it. Training is available in subjects ranging from soft skills to advanced technical skills and can be held onsite or in one of the Aims state of the art campus buildings. CWDI also offers a Lunch and Learn series and non-credit public seminars on in-demand topics on a semester-type basis.
The Workforce Development team will work with you to develop and deliver corporate training solutions that are specifically customized to your unique business needs. These high-quality, cost-effective, and customized corporate training solutions for industry and community partners are designed for when, where and how a company requests them. 
Unlike other one-size-fits-all approaches to employee training, Aims customized corporate training solutions will tailor each course to your specific needs, helping your unique business succeed. With this partnership, Aims creates an amazing learning experience for you and your employees.  
If you are interested in talking to a Workforce Development team member about training your employees and developing a customized program to meet those needs, please submit the form below.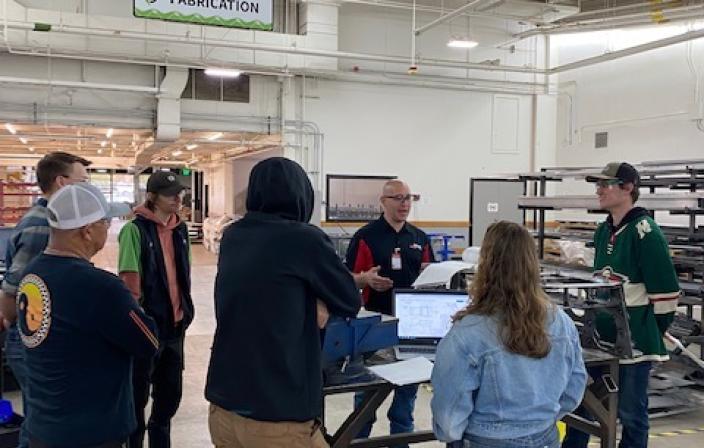 Lightning eMotors Welding Training
Aims welding instructor Cody Jones leads Lightning eMotors (LeM) employees through identifying defects in LEM parts and weld units, troubleshooting why defects may have occurred, and brainstorming corrective actions for their processes. This eight-hour Welding Symbols and GDT Interpretation training is one of seven unique pieces of training that the Aims Center for Workforce Development and Innovation will provide onsite for LeM.
The following are examples of types of customized training most frequently requested by local industries and organizations, and each training is customized to your unique needs, so this is not an exhaustive list. No two courses are alike because our team works with you at every step to provide the exact training your employees need to help them be the best at what they do.
"Aims has been a great partner to Vestas over the years, helping us deliver quality trainings to our diverse staff needs. They bring a great network of experts along with professional resources to deliver technical and business skill development for our factory."
--John Quist Sr. Professional, Training and Development, Vestas Blades American Wind Technology
Examples include:
AC/DC

Hydraulics

Pneumatics

Mechanical Drives

Motor Controls

Pressure Gauge System

Programmable Logic Controllers
Examples include:
Project Management


 

Keeping and Retaining Employees

Train-the-Trainer

Advanced Problem Solving and Decision Making

Employment Laws

Business Law for Business Owners
Examples included:
Diversity, Equity and Inclusion

Employee Communication/Relations

Re-integration to Workforce

Generational Diversity
Examples include:
Leadership Excellence

Leadership Skills for New Supervisors

Team Building

Problem Solving

Conflict Management

Successful Supervision
Examples include:
Quality Improvement

Lean Manufacturing Introduction and Implementation

55 Principles and Implementation

Seven Tools of Quality

Lean Tools: Visual Management, Kaizen Events, Inventory Management, Kanban, Value Stream Mapping, Gemba Walk, Standard Work, Six Sigma, Root Cause Analysis, Total Productive Maintenance
Examples include:
Building a Safety Culture 

Confined Space Entry

Hazard Identification & Risk Assessment

Safe Ergonomic Practices

Developing a Safety Policy Manual

Competent Person for Excavation & Trenching'

OSHA 30

Fall Rescue

HAZWOPER

Lockout/Tagout

Fire Extinguisher

Forklift Operator

Scaffold Safety
Choosing customized corporate training through Aims means you'll get connected with the right trainers to give you the skills your team needs to be successful. Whether your employees need invaluable soft skills or highly technical skills training, you'll receive affordable instruction that's completely customized to your team. 
Achieve your business goals with training that is:
Tailored to meet your industry's specific needs 

Cost-effective - with grants available for eligible organizations

Taught by qualified instructors who are subject matter experts

Based on best practices for the highest quality
You also have the benefit of choosing between on-site training at your facility or getting instruction delivered on-campus at one of four northern Colorado Aims locations.
There is no specific start date for any training; dates and times are flexible so you're able to get the training you need when you need it. All courses are customized. Reach out today to get started on planning your customized training! 
State-funded job training grants may be available to offset the cost of corporate training for your employees.  Please send an email to workforce@aims.edu for more information.
Aims Corporate Training is seeking qualified facilitators to teach on-site customized training. Instructors provide training to employees of various industries on high-demand topics. Hiring is on a contract, as-needed basis.

These are a few of the areas of expertise we are looking for:

1.) Industrial Maintenance: implementing processes to reduce breakdowns, increase uptime and promote overall reliability.

2.) Advanced Industrial Technology: using innovative technology to improve products or processes, with the relevant technology.

3.) Environmental Health and Safety: the methodology that studies and implements the practical aspects of protecting the environment and maintaining health and safety.

4.) Continuous Improvement: the ongoing effort to improve products, services or processes.

If you are interested in becoming a training facilitator in any of these disciplines or have subject matter expertise in the areas of training we typically provide, please contact us through the email link below.