Biology
Are you fascinated with living things and the processes that help them grow and thrive? If you're interested in studying how humans are impacting the natural world and how closely linked we are to our environment, an associate degree in biology is an ideal starting point for your college education.
Biology is a natural science that studies life, which seems simple but actually covers a vast amount of subject areas, including biochemistry, cellular structure, anatomy and ecosystems, to name a few. Because living things are constantly in flux and often behave unpredictably, biology is a more fluid discipline than other areas of science that rely more upon established laws and principles. This doesn't make biology any less scientific than physics or chemistry, however. The flexibility inherent in biological processes leads to many interesting questions and studies, with fascinating and at times surprising results.
By earning a biology degree at Aims, you can go on to earn your bachelor's while paying less in tuition. Thanks to a statewide agreement between community colleges and universities, when you earn your biology associate degree at Aims, you can transfer to any participating four-year public university in Colorado as a junior and earn your bachelor's degree in biology. Taking your general education degree requirements at Aims instead of a four-year institution can save you considerable cost.
At Aims, your instructors, Pathway Advisors and coaches at the Aims Transitions Center will work together to guide you through the transfer process.
Are you excited to study biological systems and processes and pursue a career in the sciences? Explore your options for earning an associate degree in biology at Aims.
Study an exciting variety of subjects in biology that will help you hone your career path, including:
Genetics
Molecules
Photosynthesis
Cellular processes
Evolution and a survey of life on earth
The scientific method
Biology classes at Aims are challenging and can help you learn how to persevere through those challenges. With smaller class sizes and instructors invested in your success, you'll get support throughout your time at Aims. You'll go on to your four-year college with more scientific skills, plus important soft skills that employers value, such as critical thinking and problem-solving.
In the Aims biology associate degree program, your core science courses will be in biology, but you'll also gain exposure to other sciences because biology intersects with many other disciplines. This broader knowledge can inspire many potential career directions.
Examples of careers you can pursue with a biology degree include:
Healthcare or veterinary professional
Wildlife management scientist
Pharmacist
Biochemist
Healthcare professional
Physical therapist
Psychologist
Pharmaceutical scientist
Data analyst
Computer scientist
Agricultural biologist
Botanist
Research scientist
Ornithologist
Conservation biologist
Thanks to a Statewide Transfer Articulation Agreement in Colorado, after graduating from Aims with an Associate of Arts degree, you can go on to study at any participating public university statewide.
 
Below is a list of colleges and universities in Colorado that are a part of this statewide agreement and offer bachelor's degrees in biology. 
Here's what your journey from Aims to a bachelor's degree in Biology will look like:
An Aims Enrollment Coach can answer your questions about this degree transfer program and help you get started on the path to earning your degree.
After becoming an Aims student, you'll choose classes to earn your biology associate degree. Your Aims Pathway Advisor will help ensure you follow the pathway that best suits you and helps you reach your goals.
Throughout your time at Aims, you'll also work with an Aims Transfer Coach to get help choosing the school you'd like to transfer to and researching what scholarships are available.
You can also reach out to a transfer advisor at your chosen four-year school to make sure you're choosing classes that will support you when you go on to complete your bachelor's degree.
Before graduating from Aims, your Transfer Coach will help you prepare for the transition to your new school as a junior.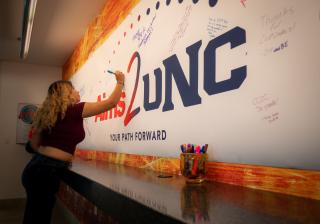 The Aims2UNC Transition Program
Aims2UNC is a joint initiative streamlining the path for students to seamlessly transition between the two colleges. You'll get support from dedicated Aims2UNC advisors who will guide you as you earn your associate and bachelor's degrees in biology.
Learn more
While many Aims biology students go on to earn a bachelor's or higher degree in this subject, some go on to study other disciplines, including:
Healthcare
Anatomy
Pre-veterinary science
Exercise science
Physiology
Physics
Chemistry
Because biology is such a broad science that intersects with many careers and sciences, the list above is a small sampling of potential academic pathways you can pursue with an associate degree in biology. You can also choose one of the majors above and declare a minor in biology. 
Work with your Pathway Advisor to choose the courses that you'll need to fulfill requirements and understand that you may need to make up some credits if you choose a new major. 
Aims Biology Faculty and Staff
The biology instructors at Aims have high academic standards and are both knowledgeable and passionate about their subject areas. They care about their students and are willing to put in the time and effort to support you in achieving your academic goals.
Next Steps
Are you ready to get started?
Do you have questions?

Meet with an Enrollment Coach!
Degree at a Glance
Degree Type
Associate of Science
Credits
60