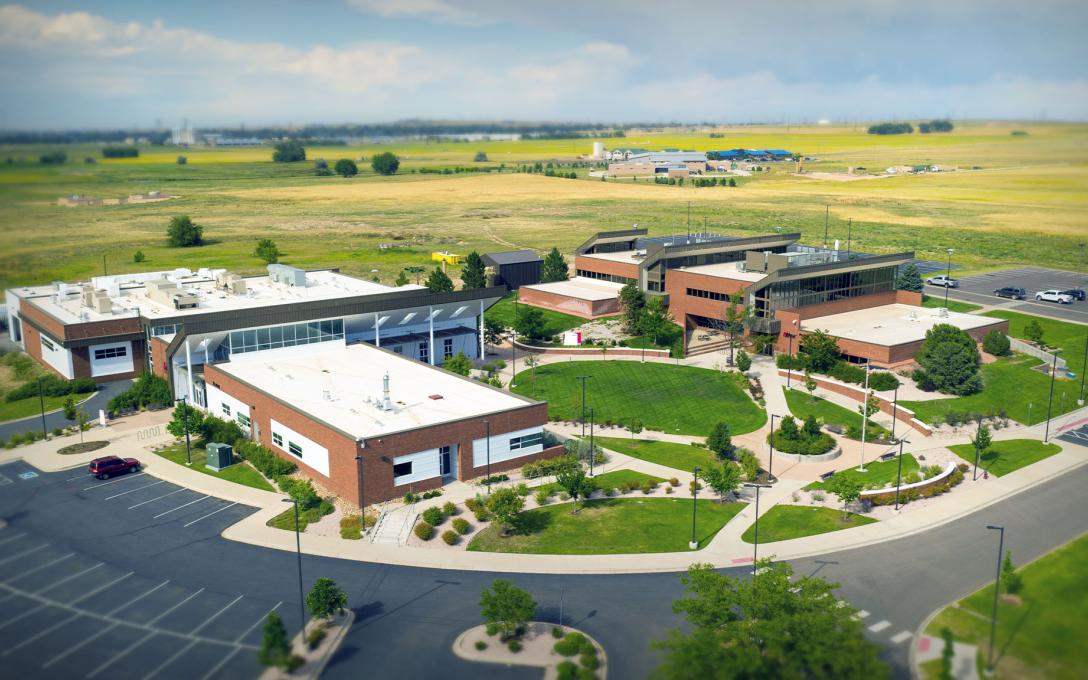 In 1967, Aims Community College held classes for the first time. Since then, Aims has grown to four physical campuses in Northern Colorado, and added options for students to take classes online.
Through the years, the college has opened many centers and established initiatives to make learning accessible for diverse learners. These include preparatory initiatives, grant-funded academic support, transitional programs and ways to keep college affordable. Each of these was created with the mission of Aims in mind: to provide knowledge and skills to advance the quality of life, economic vitality, and overall success of the diverse communities it serves.

Today, students can choose from more than 200 degrees and certificates within various fields of study. Expansion continues as part of the college's 2018-2023 Strategic Plan.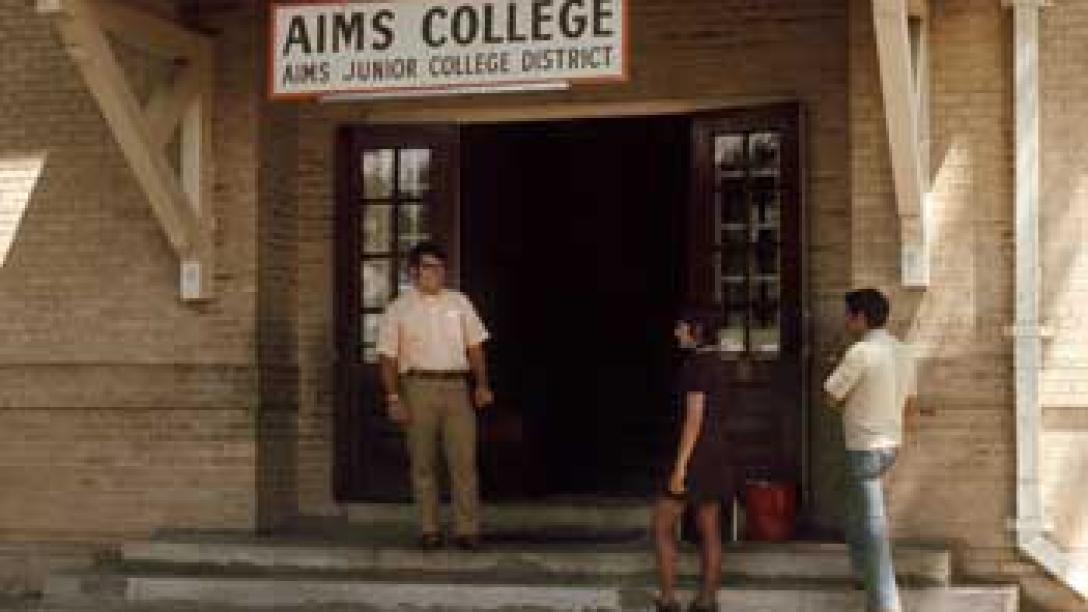 1965 - 1979: First Campus Opens in Greeley, Colorado
In 1965, Kirby Hart of Greeley advocated for the creation of a two-year college in Northern Colorado. Several school district representatives formed a committee to determine interest. Their study confirmed support for the institution and the Colorado State Board of Education and Weld County voters approved the plan. 
Two years later, the first governing committee was elected and tasked with the job of naming the college. The vision of the college was to aim for high and worthy goals, and the name of Aims Community College was selected. Dr. Ed Beaty was appointed as the first president and an aardvark was chosen as the school's mascot. 
The Lincoln Elementary School building was leased until the college could be built. A total of 949 students enrolled for the inaugural year at Aims, and the first classes were held on September 27, 1967.
In 1971, the college was officially moved to a permanent 175-acre site on the western edge of Greeley. 
August 1970:

47,000 square-foot electronics component building purchased (now Cornerstone Building)

September 1971:

Trades and Industry Building completed

September 1973:

Office Occupations Building opens (renamed Horizon Hall)

September 1975:

Skills Center (now Emergency Services Academy) is completed by Aims students

December 1976:

The Physical Education Building opens
1980 - 1991: Aims Expands in Northern Colorado
Enrollment and graduation numbers continued to grow. The spring of 1987 marked 100,000 students taught at Aims since opening 20 years earlier. Demand for two-year college degrees was growing, and Aims opened two more campus locations.
Fort Lupton Campus Opens
In 1981, Aims opened the Southern District Center Office in Fort Lupton.This was the beginning of the college's second campus in Northern Colorado. Three years later, the Fort Lupton (South) Campus held classes for the first time.
Loveland Campus Opens
In 1987, the third campus made a temporary home in downtown Loveland. Three years later, the campus moved to a permanent location at the White Building. The Loveland (West) Campus officially began classes in the fall of 1990.
July 1981:

Aims Southern District Center Office in Fort Lupton opens

September 1983:

Welding Technology Complex opens

July 1984:

South Campus Opens

September 1984:

Westview General Classroom Building opens in Fort Lupton 

Fall 1987:

Loveland Campus opens in a shared building in downtown Loveland

September 1990:

White Building at West Campus opens
1992 - 2004: Aims Celebrates 25 Years Followed By Continued Growth
In the spring of 1992, Aims celebrated its 25th anniversary with a ground-breaking for the College Center at the Greeley Campus.
The 1990s brought more growth to the three campuses of Aims. In that time, remodeling took place to update buildings, and several new centers were established, allowing Aims to expand its scope of programs to serve Northern Colorado learners.
In 1999, Aims earned its 10-year "seal of approval" accreditation from the North Central Association of Colleges and Schools Commission on Institutions of Higher Education.
The next five  years brought more advancement for Aims. New centers were dedicated and several transitions of presidential leadership took place. 
In fall 2004, Aims transitioned from a quarter system to a semester system.
September 1993:

College Center at Greeley Campus opens

January 1994:

West Campus remodeled

Spring 1995:

Aims College Flight Training Center purchased

Fall 1995:

Monfort Early Childhood Education Center opens

June 1997:

Aims College Corporate Education Center dedicated

June 1998:

Library renamed to Jerry A. Kiefer Library

September 2000:

Harold S. Winograd Center for Innovative Learning is dedicated

October 2000:

Thai House II dedicated 

March 2001:

Flight Simulator Center is dedicated

January 2003:

leased Health Sciences Building is dedicated

August 2004:

Continuing Education dedicates its Fort Collins Center

August 2004:

Allied Health Department moves into BOCES building
2005 - 2009: Creating Accessible Education for All
As the 21st century continued, more expansion and improvements came to Aims. 
During fall 2005, the college began serving 160 low-income, first-generation students with intensive academic support thanks to a five-year grant established by TRiO Student Support Services.
Aims celebrated 40 years of serving Northern Colorado in January 2007, and more programs were established that same year. These included:
iFocus Academic Success Workshop Series

- launched to address student needs in academics, leadership, career development and technology.

Emerging Scholars Program

- aimed to support students in developmental education who demonstrated potential for academic success.

Advancing Academic Achievement (AAA) Courses

- required for students in developmental education to support their transition into the college curriculum.
In March 2008, the College Promise Scholarship Program was established with grass-roots funding from local community and business leaders, providing scholarships to Greeley-Evans District 6 graduates. 
Aims partnered with Weld County Employment Services and a new program was developed to prepare graduates to fill positions in electric, oil and gas, solar, wind and geo-thermal industries.
Aims finished the decade by creating a "green" and sustainable building program that focused on teaching solar construction techniques, net-zero energy building, passive thermal architecture and super insulation.
September 2005:

Open House for Mildred S. Hansen building

September 2006:

Ribbon-cutting for Downtown Center

November 2006:

Open House for Construction and Automotive Technology building in Fort Lupton

May 2007:

Aims purchases a 40-acre parcel in Berthoud for future development

September 2007:

Allied Health and Sciences Building opens

September 2007:

Aviation Building opens

September 2008:

Renovations to Beaty Hall
2010 - 2017: Windsor Campus Addition and a Commitment to Diverse Communities
Windsor Campus Opens
In 2010, Aims opened a fourth campus in Windsor. Here, the opening of the Automotive & Technology Center would provide the latest in automotive technology education. 
Serving Diverse Communities
Budget shortfalls in 2010 forced Aims to cut the Childcare Center, Aviation Department and downtown campus, but the college was able to create new programs over the next several years. These included:
September 2010:

The TRIO Student Support Services grant was renewed for another 5-year term.

September 2010:

TRiO Student Support Services awarded a STEM grant to annually serve 120 low-income, first-generation students in science, technology, engineering and math programs by providing intensive academic support.

June 2012:

Center for the First-Year Experience (FYE) opens to assist in students' social and academic transition into the college community.

September 2013:

Center for Opportunity and Resilience in Education (CORE) opened and expanded the TRiO model to serve historically underrepresented students.

January 2014:

Catalyst launches as a leadership and career readiness program.

August 2015:

The Early College High School program was created with students from Greeley/Evans District 6 and Windsor Charter Academy. The program offered a structured blend of high school and college curriculum, allowing students the opportunity to complete their high school diploma and earn an associate of arts degree simultaneously.
During this timeframe, Aims received reaffirmation of accreditation through the Higher Learning Commission. Aims  was also named one of the top 10 Digital Community Colleges by the Center for Digital Education and the American Association of Community Colleges.
Aims joined the Open Textbook Network in 2017, allowing students to use free textbooks when possible and save hundreds of dollars on books each semester. 
Through the decade, Aims continued to impact the economy of Northern Colorado. A study found that Northern Colorado Public Colleges and Universities (NoCoPCU), including Aims, added $2.4 billion in income to the economies of Larimer and Weld counties.
January 2010

:

Automotive & Technology Center opens in Windsor

July 2010:

College Center renovations complete

May 2011:

Horizon Hall remodel complete

September 2011:

Synergy Resources completes oil wells on Greeley campus

September 2012:

Greeley Campus Promenade complete

August 2013:

Fort Lupton dedicates the new Platte Building and renovated Prairie Building

February 2015:

Renovation of Electronic Components Building complete and new name of Cornerstone

September 2015:

Newly renovated Physical Education and Recreation Center complete

January 2016:

Public Safety Institute Building at the Windsor location opens

August 2017:

Applied Technology and Trades Center opens

August 2017:

Newly renovated Welding Building opens
Aims Community College Today
Aims Community College was identified by the Denver Post as a  Top Workplaces in Colorado in 2018 and again in 2019.
In 2019, Aims and UNC announced the Aims2UNC partnership. A concurrent enrollment program, students earn a two-year degree at  Aims Community College and transfer to UNC with the support of a transition advisor. Aims also established the College 4 Kids program to expose tweens and teens to college style learning. 
With the COVID-19 pandemic threatening some students' ability to graduate in the Spring of 2020, the Aims Community College Foundation provided 52 students with $1,000 emergency assistance scholarships as part of the "Keep the Dream Alive" campaign.
Aims currently offers more than 200 degrees and certificates. The work of the college moving forward is outlined by the 2018-2023 strategic plan. It focuses on three pillars:
Strategy One:

Empower Students to Succeed

Strategy Two:

Enhance Operational Performance

Strategy Three:

Enrich Northern Colorado Economic Development
Further developments are currently in progress at the Greeley and Windsor campuses. This work is made possible by a $49.5 million investment approved by the Board of Trustees in 2018. Completion is set for 2021 and 2022.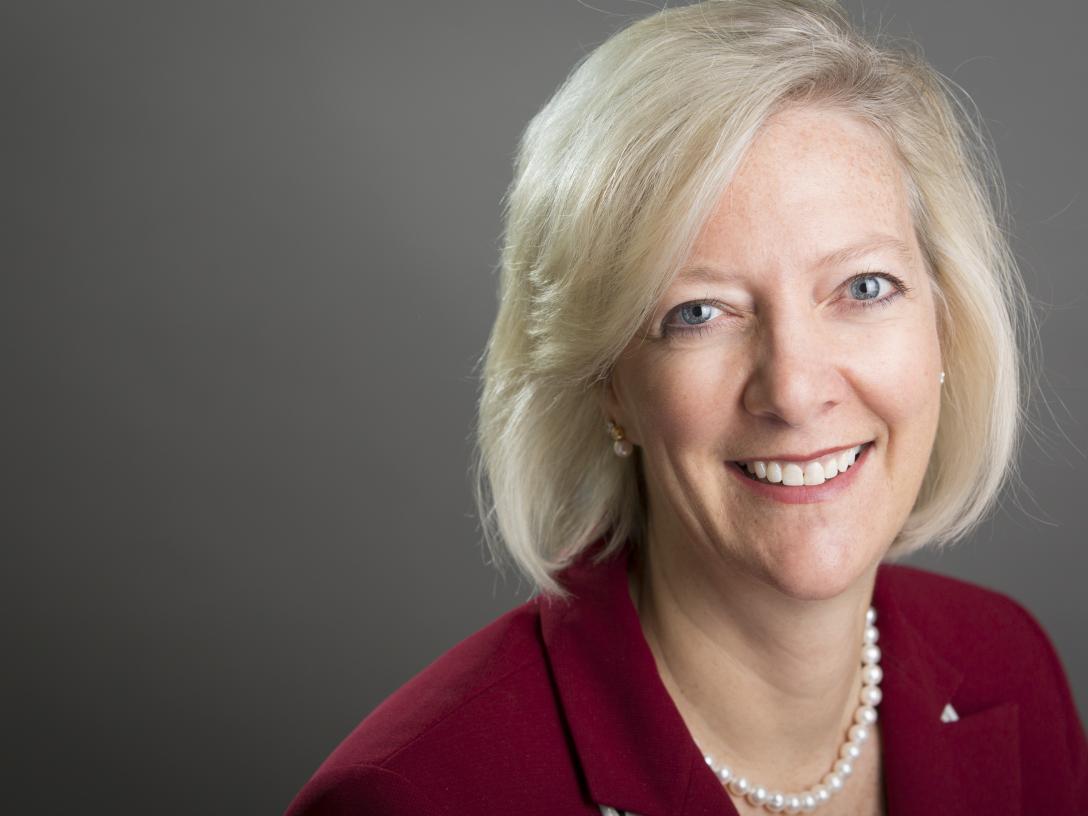 Presidents Past and Present
Dr. Leah Bornstein was named the sixth president and CEO of Aims Community College on August 1, 2015 by the Aims Board of Trustees. She is a long-time advocate for student success, quality instruction, increased access to education and strong strategic and tactical planning.
Presidents of Aims Community College: 1967 - 2015
Dr. Ed Beaty: 1967 - 1975

Dr. Richard A. Laughlin: 1975 - 1979

Dr. Jerry A. Kiefer (acting): 1979

Dr. George R. Conger: 1979 - 1997

Dr. Jerry A. Kiefer (interim): 1997 - 1998

Dr. Paul N. Thompson: 1998 - 2001

Russ DeVriendt (acting): 2001

Brenda Beckman (interim): 2001

Dr. Paul Gianini (interim): 2002

Dr. Marilynn "Marsi" Liddell: 2003 - 2015

Donna Norwood (acting): 2015